By: +Katie Kaleita, writer for Vitacost.com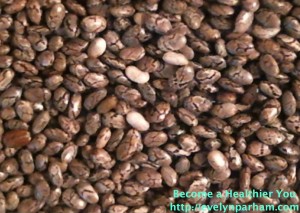 Sure, you could plant 'em in a cute clay pot. But did you know there are many more ways to enjoy (ch-ch-ch) chia seeds? These tiny pods pack a powerful nutritional punch – so maybe it's time you added a little chia power to your diet! Follow us as we explore five simple ways to enjoy the abundant benefits of chia seeds:
Breakfast boost: Instead of sweetener, sprinkle chia seeds on your morning oatmeal.
Benefit: Chia may not be sweet like sugar, but this mild-tasting oatmeal topping can help keep your tummy from grumbling. Chia seeds are brimming will fiber, which can help you stay full and satisfied straight through lunchtime – no more mid-morning trips to the vending machine!
Salad topping: Toss a few spoonfuls of raw chia seeds in your spinach salad.
Benefit: Besides adding a satisfying texture to your bowl of greens, chia seeds can also add an abundance of minerals, including iron, phosphorus, copper, calcium and zinc. They're also an excellent source of antioxidants and omega-3 essential fatty acids. (Talk about a superfood!)
Super smoothie: Next time you bring out the blender, include some chia seeds in your smoothie.
Benefit: Chia seeds can help regulate your body's conversion of carbs to sugar, providing the slow-burning energy you need to power through spin class. They're also easily digestible, which is a plus for those with sensitive systems.
Refreshing drink: Forget sports drinks – add chia gel to your favorite beverage instead. (To make chia gel, simply combine 1/3 cup chia seeds with 2 cups water and refrigerate.)
Benefit: Chia seeds have a reputation for retaining moisture – lots of it! They can absorb 10 times their weight in water, so adding chia gel to your drink before or during a grueling workout can help keep your body hydrated.
Plant-powered protein: Add chia seeds to your favorite food or beverage (even baked goods!) to get an extra dose of protein.
Benefit: Chia seeds pack in twice the amount of protein found in any other seed or grain. For those who prefer not to consume animal-based products, chia seeds are a great way incorporate more protein into the diet. They also provide all nine essential amino acids, which are crucial for muscle growth and recovery.
This article has been provided by the folks at Vitacost.com. They know that a healthy lifestyle is more than organic vitamins and natural supplements. That's why Vitacost.com offers essentials for your home, your baby, your pantry, your beauty routine – even your furry, four-legged friends! Since 1994, Vitacost.com has been taking the cost out of healthy living. Today, you can shop over 35,000 products from your computer like Quinoa on your tablet or smartphone with just a click of a button. Some might say Vitacost.com is the silver platter of healthy living – let them serve you. Vitacost.com is not affiliated with this blog and isn't responsible for content outside of this article.