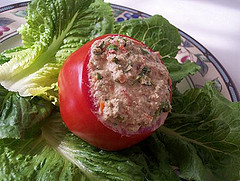 I am in the process of preparing myself (mentally, physically, and spiritually) to eat a raw vegan diet.  I usually eat a high raw vegan diet during the Spring and Summer months.
During my preparation, I came across some important information about iron. Did you know that the iron in plant foods are less efficiently absorbed than the iron that is present in meat?
In order to efficiently absorb iron, consume foods high in vitamin C with foods that are high in iron. Also those who center their diet around a plant-based diet have no greater incidence of anemia than do meat eaters.
So if you're worried about getting enough iron on a plant-based diet, don't be. Proper combining of vitamin C foods with iron rich foods helps with iron absorption.
Combining red pepper, tomato or citrus fruit with an iron source helps with your iron absorption. Doing this can double or triple the amount of iron you absorb, because vitamin C changes iron to a form that is more easily absorbed. Other fruits that have citric acid that help with iron absorption include papaya, mangoes, and strawberries.
Excellent Iron Sources*
almonds, Brazil nuts, or hazel nuts, 2/3 cup (90 g)
almond or cashew butter, 1/3 cup (80 ml)
amaranth, dry 1 tablespoon (13 g)
apricots, dried, 2/3 cup (100 g)
buckwheat, dry, 1/2 cup (85 g)
dried figs, raisins, or currants, 1 cup (165-200 g)
flaxseed, ground, 3 tablespoons (24 g)
lentils or mug beans, dry, 2-3 tablespoons (25 g)
millet or wild rice, dry, 1 cup (130 g)
parsley, 1 cup (60 g)
peas, 2 cups (290 g)
seeds, 1/3 cup (60 ml)
sesame tahini, 1/3 cup (80 ml)
sun-dried tomatoes, 2/3 cup (36 g)
Spirulina seaweed, dried, 1 tablespoon (8 g)
*Excellent sources provide at least 3.6 mg iron or 20% of the DRI.
Don't Be Afraid of Supplements
Supplements are your friend, especially when your caloric intake has decreased.  As a measure of safety, you should take supplements.
Why? Because you are limiting your calories, even more so on a raw vegan diet and you need to make every food you eat count.
You may need to include a, multivitamin/mineral supplement. Choose a multivitamin/mineral supplement that has chromium and zinc. In addition take calcium (along with vitamin D), separate tablet. Some multivitamins/mineral supplements don't have enough calcium.
If taking a pill isn't what you want to do, consider a green powder supplement that has added vitamins and minerals, make sure they include vitamin B12, D, and iodine.
Eating a raw vegan diet helps you get most of what you need. And in this case, just one multivitamin/mineral supplement a day or a few days, plus a calcium tablet will do for most people. While traveling using a supplement is wise, because your food choices could be limited.
Conclusion
When you decide to change your diet, make sure you do your research and consult a professional. If you prepare for the challenge, you'll be sure to succeed in whatever diet you choose for yourself.
Source of Information: The Raw Food Revolution Diet(pages 58-60)