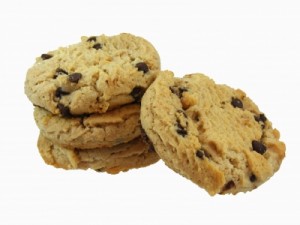 All it took was one time and I was hooked. It was like I was having an affair. I got a rush while eating them and when I thought about them, my mouth watered.
I started a 15 day cleanse (Thisilyn Cleanse 15 Day Mineral Program) on January 4, 2012 and promised myself that I would leave the chocolate chip cookies alone, eat a strict vegan diet and so far so good.
It's amazing what you can do when you set your mind to it. Especially when you know that something isn't healthy for you.I don't claim perfection, but I do claim that I am a work in progress.
Here's the deal, I tasted chocolate chip cookies from McDonald's (the cookies are not vegan), and that was the beginning of my brief love affair. No other cookies would do, they had to come from McDonald's.
I needed help to kick this unhealthy habit. I picked up Breaking the Food Seduction
 written by Dr. Neal Barnard, M.D, and started skimming through the book. I learned new things about chocolate that persuaded me to stop the madness.
What I Learned About Chocolate
Chocolate is an addicting drug, targeting the same spot on the brain as heroin or morphine.
Chocolate affects the brain, but not to the degree of narcotics.
Chocolate now and then is okay, but every day is not okay.  I can't have it now and then, because I will have some serious problems.
There are other things I learned about chocolate, but learning that it is addicting and affects the brain was enough for me to drop Mr. Chocolate Chip (gooey) Cookie.
How I Got Caught Up in My Affair
Mr. Chocolate Chip Cookie tasted good, the chocolate just melted in my mouth. I would eat cookies slowly, savoring ever bite. Yes, I had it bad. I'm glad this love affair didn't last long.
I learned from Breaking the Food Seduction that I needed to start with a healthy breakfast. I usually don't eat until I'm hungry or when I hear my stomach growl, which is not always a good thing.  As a result, I ate too much food and snacked a lot during the day.
Since I've been eating a healthy breakfast, I haven't had cravings for Mr. Chocolate Chip Cookie. I don't even have the desire to eat sweets or snack on foods that have no nutritional value and benefit.
What A Healthy Breakfast Looks Like
Forget about doughnuts, coffee, and foods that are low in fiber and try not to skip breakfast. Eating these types of foods and skipping breakfast only result in you eating more food for lunch and snacking throughout the day.
A healthy breakfast regulates your appetite. I experienced the hearty appetite because I was eating very little to nothing for breakfast. Lesson learned!
Include these foods in your breakfast:
Fiber-rich foods: whole-grains, fruit, vegetables
Healthy protein source: veggie sausage and bacon, tofu, tempeh, beans, protein powders (in smoothies), nut and seed butters
These types of foods carry you until your next meal and help you stop the unnecessary snacking and overeating.
If you are having food cravings and are always feeling like you haven't eaten enough, give the healthy breakfast option a try. You'll be glad you did!
Information Source: Breaking the Food Seduction: The Hidden Reasons Behind Food Cravings—And 7 Steps to End Them Naturally