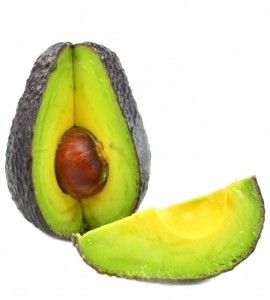 What's smooth and creamy and green inside, has rough skin on the outside, not to mention packed full of healthy stuff? You guessed it, the avocado.
Some people do not like avocados. Who knows why they do not like avocados, but one this is for sure, they are missing out on a fruit that has a lot goodness.
There are some people who say they do not like avocados, but they have never tried avocados. If only they would give avocados a try, they would see that they are not all that bad.
 History of Avocados
The avocado came from Persia. Avocados have been cultivated since 8,000 B.C in the regions of Central and South America. Avocados were introduced to Jamaica in the 17th century and spread through the Asian tropical regions in the mid-1800's.
The cultivation of avocados in the United States (California and Florida) began in the 20th century. Avocados are grown in tropical and subtropical regions with the major commercial producers being California, Florida, Mexico, the Dominican Republic, Brazil and Colombia.
The avocado is primarily grown in southern California, the original home of the Haas avocado. Avocados are available year round, but are the best in the Spring and Summer in California and in October in Florida. (Source)
How Eating Avocados is Beneficial for You
When avocados are at their peak, they contain a high amount of fruit oil. Fruit oil is very rare and this is what gives the avocado its smooth, mellow taste and nut-like flavor. The fruit oil gives the avocado a high food energy value. Compared to most fruit, it has very few carbohydrates.
An avocado has fourteen (14) minerals and these minerals regulate body functions and stimulate growth. The avocado's iron and copper content, aid in red blood regeneration and helps prevent nutritional anemia. The avocado also has sodium, which gives the fruit a high alkaline reaction.
Avocados contain no starch, little sugar, and has some fiber or cellulose. (Source)
Health Benefits of the Avocado
The benefits of eating avocados are as follows:
Promotes heart health
Has a range of anti-inflammatory benefits
Optimizes absorption
Promotes blood sugar regulation

Anti-cancer benefits

Promotes eye-health

Helps lower cholesterol

Helps prevent stroke

High in vitamin E
 Ways to Eat Avocados
Avocados are versatile and the flavor is neutral. This means that it does not overpower other ingredients that you add to it. Think of it as the avocado complimenting the other foods.  There are many ways to include avocados in your diet.
If you do not eat scrambled eggs, but you have the taste for scrambled eggs, you can mash an avocado, add a little salt and pepper to taste, spread it on some toast. It is delicious and you will think that you are eating a scrambled egg sandwich.
Slice an avocado and add it to your salad. An avocado in a salad is very filling.
Slice an avocado and slice a tomato, layer, sprinkle with a little black salt, for garnish and you have a healthy snack.
Mash an avocado, add lemon/lime juice, fresh garlic or garlic powder, a little salt, chopped tomatoes, cilantro or rosemary and sprouts. You can use this for a dip, a nori roll, or on a salad. The possibilities are endless.
Mash an avocado and add a little salt and pepper. Use this on your sandwich as a substitute for mayonnaise.
Add chunks of avocado to quinoa or beans  and make a salad, adding all your favorite foods you like to eat in a salad.
Add to a smoothie, it will make it very creamy.  Do worry about the tasting the avocado, because the avocado is neutral.
Make a chocolate pudding without using dairy. Mix or blend the avocado with or without a banana, add a sweetener, and some coco powder and you have yourself a healthy chocolate pudding.
The possibilities of what you can do with the avocado are endless.
If you do not eat avocados, don't let another day go by without giving the avocado a try.
You just might like it!
 DISCUSSION:  Do you eat avocados or use them in your beauty rituals? Please share how you use avocados!
Image courtesy of Grant Cochrane / FreeDigitalPhotos.net