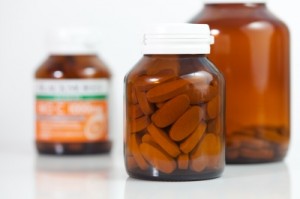 Update: Experimentation and listening to your body is a good teacher. Since writing this post, I have changed my viewpoint on this topic and I do take a quality multivitamin. (2/6/2015)
I recently stopped taking multivitamins. I took two, one multivitamin and one hair vitamin. Both vitamins combined were very high in folic acid and other things too.
The total amount of folic acid was 1600 mcg. I thought I was doing something good, but my body sent me a message saying otherwise.
Years ago I had a biopsy done in one of my breast to make sure that what the doctors were seeing and feeling was nothing serious.
The results came in and I was told that I had a cyst. I was informed that from time to time, I may have a little aching. It was recommended that I take vitamin E or evening primrose. I did neither, but I did change my diet and took better care of myself.
Since changing my diet, I have not had any problems. Let's fast forward to a few weeks ago.I was taking my vitamins religiously, because I want to make sure I'm getting what I need. I also wanted to grow my hair fast. I took the vitamins for a 2-week period.
I noticed that after I started taking the vitamins that I started having some aching in my breast. I knew this was unusual. The only thing I was doing different was taking new vitamins.
The Big Discovery
Carolyn from CarolynAkens.com posted an article, titled, 10 Strategies for Preventing Breast Cancer. I learned that I should avoid folic acid in my supplements. I checked my vitamin label and sure enough, folic acid was there and I was taking a very high dosage.
I stopped taking the multivitamin and hair vitamin and believe it or not, the issue I was having is gone.
I now take chlorella and vitamin B-12. I take spirulina and flax oil with DHA occasionally.
I am sharing this personal information with you because I know it will help someone.
Dr. Furhman Warns Us
Do not take supplements with potentially toxic ingredients.
Dr. Furhman sends a critical message to women in America. Most prenatal vitamins and multivitamins may be doing more harm, than good.
Dr. Furhman is a board-certified family physician and nutritional researcher. He is the author of Eat to Live, which is a New York Times bestseller.
Dr. Furhman recommends the following:
Do not take supplements that contain Folic Acid.
Do not take supplements that contain Vitamin A or isolated Beta Carotene.
Do not take supplements that contain Vitamin E.
Do not take supplements that contain copper.
You can visit Dr. Furhman's site to learn why he recommends avoiding the above vitamins.
It is best to get your vitamins and nutrients from the food you eat. Be sure to investigate the source and the safety of the supplements that you take.
Why Avoid Folic Acid, when Women are Encouraged to Take It?
When you learn that you are pregnant you want to make sure you get everything you need to have a healthy baby.
Folic acid is one that gets recommended a lot, because it helps prevent birth defects like, spina bifida.
Little do we know that folic acid may be doing more harm than good.
Dr. Furhman says, "Folate from food is protective, but folic acid supplementation is linked to cancer."
There are studies that link folic acid supplementation to breast, prostate, and colorectal cancers, and certain sicknesses in children.
Final Thoughts
Always read the labels on the supplements that you take. I bought the vitamins, I was taking from a vitamin store, and I asked the associate if it was okay for me to take the multivitamin along with the hair vitamin and the associate said yes.
I know the associate probably thought I was crazy, because my body language said that, "I do not believe that." I still had doubts about taking those two vitamins even after the associate said it was okay.
Read the labels, do your own research, and be an informed consumer. Get most of your vitamins and minerals from the food you eat.
Good health is found in the food you eat; not in a bottle!
Image courtesy of foto76 / FreeDigitalPhotos.net