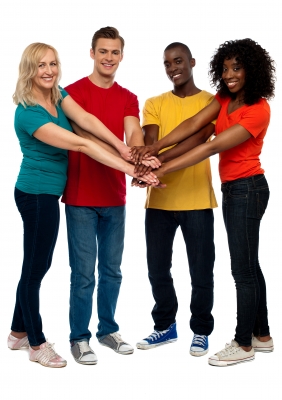 Do you think that you can get through this life, reach your goals, or be all that you can without any help? If you think you can, do it all yourself, then you are sadly mistaken.
Everybody needs somebody, even when you don't think so.
Today, I share how certain people help me see that I am not an island unto myself.
The inspiration for this post came from a conversation I had with my cousin.
Procrastination Slows Down Success
I am the first to admit that I am a procrastinator, but I also know that procrastinating slows down success.
My cousin brought to my attention that I need to stop procrastinating and focus.
I know this, but it is always good to hear it.
My cousin also told me that I am a very smart person. He recommended that I focus on what I enjoy doing the most and give it my all.
I know this too, but sometimes I let fear get in the way.
As a result of the conversation I had with my cousin, I am now working on a project that I will complete.
The People on my Team
There are people in my life who are on my team. These people are always helping me in their own way. And who are the people on my team? The people on my team consist of:
family
friends
readers of this blog
those I help make healthy lifestyle changes
the person who sends me an email letting me know they appreciate what I do
and the person who tells me to keep doing what I do, because it doesn't go un-noticed.
It is now up to me to acknowledge this team and not feel that I am alone in my journey because I am not alone.
[clickToTweet tweet="No man is an island, entire of itself. ~ John Donne #quote #quotes" quote="'No man is an island, entire of itself. Every man is a piece of a continent, a part of a main.' ~ John Donne"]
Messages from Angels
The angels that I refer to are real people who have touched my life. There is one angel in particular who touched my spirit one day and she said exactly what I needed to hear.
One day while Hannah and I were leaving the speech therapist, the therapist said such heartfelt words to me about my daughter. I could not help but break down in tears.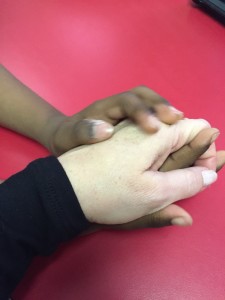 She gave me hug and I immediately felt a sense of relief (as if a huge burden lifted).
A tough exterior does not always mean that you are tough on the inside.
The therapist thought I was having a hard time, but I assured her that was not the case.
The reason I broke down in tears is because the words of my angel touched me deeply.
I knew it was for me to receive it and not worry anymore about my daughter.
Making Healthy Lifestyle Changes
Sharing a glimpse of my life with you is for you to realize that no matter what you go through in life, you will always need others in your life in some way.
Whatever healthy lifestyle changes you want to make, you can do it, but I implore you to get with people who can help you get where you want to go.
Surround yourself with people who are positive about what you are doing. No matter who you decide to have on your team, always remember that everybody needs somebody even when you don't think so.
Fill your team with people who:
inspire you
encourage you to keep going even when you want to quit
bring out the best in you
tell you the truth in love
and truly care about seeing you reach your fullest potential.
Everybody needs somebody, even when you don't think so.
Image courtesy of stock images at FreeDigitalPhotos.net