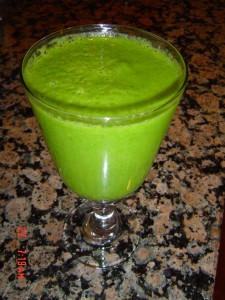 Have you ever wondered about what you should put in your smoothies? Learn what's in the ingredients you add to your green smoothies.
Today, Carolyn Akens shares with us her top smoothie ingredients and why they are good for you.
When making a green smoothie you can add bananas, apples, pineapple, ginger, flaxseeds or flaxseed oil, hemp protein powder, various greens (spinach, kale, cabbage, etc.)
Bananas – phosphorus, calcium, potassium, vitamins A, C, E, B6, niacin
Apples – vitamins C, B, B6, beta-carotene, fiber, potassium, phosphorus, calcium
Ginger – calcium, fiber, iron, magnesium, manganese, potassium, protein, selenium, sodium, vitamins C, E, B6
Flaxseeds – high in lignans, omega 3s, fights cholesterol, diabetes, cancer, constipation, inflammation, heart disease
Spinach – fiber, aids in digestion, prevents constipation, helps maintain low blood sugar, flavonoids that fight prostate cancer, anti-inflammatory, age-related macular degeneration (#1 cause of blindess in people over age 55)
Pineapple – bromelain which is an enzyme that helps the body digest protein, calcium, potassium, fiber, vitamin C, rich in manganese, strengthens bones, keeps your skin beautiful, lessens the risk of hypertension
Hemp Protein Powder – good source of iron, calcium, vitamins B, E, fiber, fights cancer, arthritis, omega 3, 6, and 9, chlorophyll, fiber
Green Smoothie Recipe

1 frozen banana
1 apple (or pear, orange, peach, mango, pineapple, etc.)
1 knob fresh ginger
1 Tablespoon ground flax seed or flax seed oil
2 cups dinosaur kale (or spinach, romaine lettuce, celery, cabbage, Italian parsley, etc.)
1 Tablespoon hemp protein powder
20 ounces water
Blend all ingredients until smooth.
Abut the Author Carolyn Akens, holistic health coach, personal chef, and raw food educator, is known for her ability to coach women and families on reclaiming their health by eating whole foods. Carolyn also trains and coaches Raw Chefs and Raw Instructors and teaches raw classes and workshops. Visit www.CarolynAkens.com for your FR*EE gifts…How to Become a Skinny Mother or Grandmother, Raw Recipes, and Healing Foods!