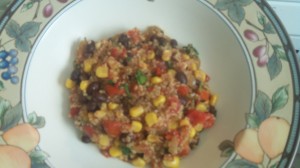 Here is a recipe from Vegan in 30 Days.  This quinoa recipe is full of flavor.  You learned that quinoa is an ancient grain in Healthy Grains You Should Eat.
Quinoa is a good choice for those of you who eat a predominately plant-based diet because it is a complete protein.
Try this recipe and add your own spin on it.  A few items you can add to this recipe is:
Sprinkle with diced/sliced of avocado
Vegan/Vegetarian sour cream
Vegan/Vegetarian cheese
Sprinkle with green onions
Sprinkle with fresh tomatoes
Jalapeno peppers
Sprinkle with toasted spicy pumpkin seeds croutons
Drizzle with spicy garlic oil
Nutritional yeast
There are many ways to add your own spin on this recipe.  Be creative and make your taste buds dance a happy dance.