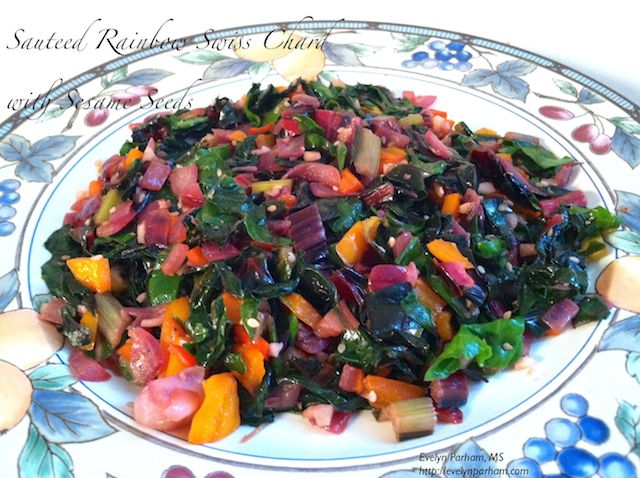 This is a recipe that from Chef Carolyn Akens that is in the spring detox recipe book.  This recipe is easy, quick, light, healthy and quite tasty.
Swiss Chard Health Benefits
Aids in blood sugar regulation
Promotes bone, eye and brain health
Good for the hair (rich in biotin)
Promotes healthy blood (high in iron)
Anti-inflammatory
Helps prevent cancer
Anti-oxidants
Rainbow Swiss Chard with Sesame Seeds Recipe
(Makes 3-4 Servings)
Ingredients
1 tablespoon coconut oil
1 onion, chopped
1 red bell pepper, chopped
1 bunch Swiss chard, chopped
2 to 3 garlic cloves, chopped
Himalayan Pink or Celtic sea salt to taste
Black pepper to taste, freshly ground
1 tablespoon black sesame seeds
Directions
Saute the Swiss chard.  Add coconut oil to a saute pan over medium high heat.  When oil is hot, add onion and sweet pepper.  Saute for 2 to 3 minutes until brown.  Add the chopped Swiss chard and saute for another 2 minutes until it is wilted.  Add minced garlic, sea salt, and black pepper.  Saute for another 1 to 2 minutes until the garlic is fragrant.  Remove the sauteed Swiss chard from the pan on to a plate
Serve the Swiss chard.  Top the Swiss Chard with black sesame seeds and serve.