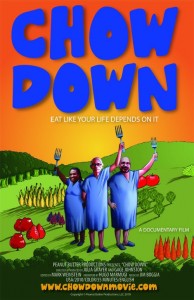 Chow Down is a documentary that follows three people  diagnosed with chronic illnesses.
Each person opted to change their diet to a plant-based diet and forgo surgeries and pills to help reverse their illnesses.
The two men in the documentary have heart disease and the woman has Type 2 Diabetes.
Dr. T. Colin Campbell, author of The China Study
, states "Nutrition controls the expression of genes."
Just because your father, grand-father, great-grand father died from a heart attack does not mean you will have the same thing happen to you.
Nutrition is the key!
I recommend that you check out this documentary and share it with your family, friends and anyone you know who will benefit from viewing this documentary.
Short Summary of the Film
Root for Charles, John, and Garnet as they try to buck the system of pills and procedures and outfox their heart disease and diabetes. When their doctors tell them that they can't get better, our intrepid trio tells the doctors to think again. With lighthearted animation, piercing expert interviews and a feisty attitude, Chow Down is the moving story of the success you can achieve when you rewrite the recipe for a healthy life.  ~Julia Grayer
View the Film
You can find Chow Down in Whole Foods, on Amazon.com and Hulu.  The creators of Chow Down are now setting up screenings across the country.
If you have problems viewing this clip, you can view the trailer here.