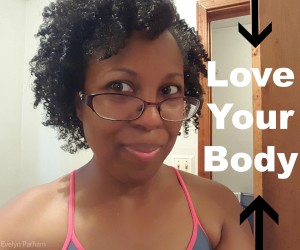 February is known as the Month of Love.  The kind of love that is celebrated in February is usually not about loving yourself (your body), but more about showing love to others who hold a special place in your heart.
Show love your love all year-long, not just on one day in February.
Do you hold a special place in your own heart for yourself?  I know this question may seem odd to you, but it is a serious question to ask yourself.  Some of you may not be able to answer this question because you may think it is a self-centered question.
You should never think that loving your body is a selfish act because it is not.
It is important that you love your body and if you love your body you will love yourself.  Here are 20 ways to love your body all year-long.
Look in the mirror and tell yourself that you are worthy of love.
Look in the mirror and say, "I love all that I am and all that I will become."
If you have fat in places on your body that you hate; stop hating on your body and start telling that part of your body that you love, it.
Get the proper rest that your body needs.
Stand in the mirror and tell your whole body (each body part) that you love it.
Be careful of what you allow your ears to hear.
Be careful of what you allow your eyes to see.
Spend time in the sun.
Find movement that you enjoy doing with your body.
Eat food that makes your body feel good
Pamper your body.
Think positive thoughts about your body.
Affirm that your body is an amazing vessel.
Affirm that you will love your body no matter what your body looks like or how you feel.
You may also like:
Feel free to leave a comment.