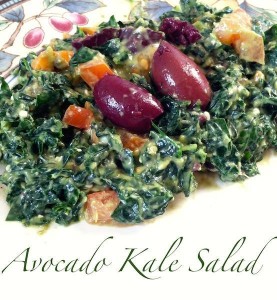 Looking to boost your intake of green leafy vegetables?  Spring is the perfect time for boosting your intake of green leafy vegetables and for eating salads.  The cool thing about this is that you can have fun creating fun, nutritious and refreshing salads.
You can avoid getting bored from eating green leafy vegetables by creating flavorful, nutritious, beautiful salads.  You will never look at green leafy vegetables the same.
The recipe that I am using for the Avocado Kale Salad is from the Rainbow Green Live-Food Cuisine by Dr. Gabriel Cousens.  I love this book because it is packed with information that help you make better food choices, but it also has tons of recipes.  I encourage you to add this book to your library.
Key Ingredients and their Benefits
Lacinato/Dinosaur/Tuscan/Black Kale
Supports the body in the detoxification process
Anti-inflammatory properties
Helps prevent cancer
Helps lower cholesterol
Good source of calcium, magnesium and manganese
Avocado
Promotes heart health
Promotes blood sugar regulation
Optimizes absorption
Anti-inflammatory properties
Good source of vitamin E
Tomato
Supports bone health
Provides cardiovascular support
Excellent source of vitamin C and beta-carotene
Anti-cancer benefits
Anti-oxidant benefits
Celtic Sea Salt
Alkalizes the body
Helps balance blood sugar
Provides electrolyte balance
Builds immunity
Helps prevent muscle cramps
Lemon Juice
Alkalizes the body
Helps with weight loss
Aids in digestion
Anti-cancer properties
Rich in vitamin C
Celery
Diuretic
Cleansing
Anti-inflammatory properties
Helps regulate blood pressure
Helps prevent cancer
Avocado Kale Recipe
Ingredients
1 bunch of Lacinato Kale
1 large tomato
1 avocado
1 stalk celery
1/4 cup olives
2 tablespoons olive oil
2 teaspoons lemon juice
1 teaspoon Celtic sea salt or Himalayan Pink salt
Optional:  1 tablespoon hemp seeds (my addition)
Optional: 1 cup olives any variety, 1/2 cup dulse, 1 cup shredded veggies, or 1/2 cup pine nuts
Directions
Remove part of kale stem and finely chop leaves into a bowl.
Add salt and massage well until kale wilts.
Add lemon and massage again.
Add tomato, olives.
Blend avocado, olive oil, and celery to cream and pour over salad.
Mix well to completely coat the kale leaves.
The order in which you add the ingredients is crucial;  if you add the oil too early the kale will not wilt as well.
Kale is one of the most nutrient-dense foods you can buy.  Make sure you add kale to your diet.
Enjoy!