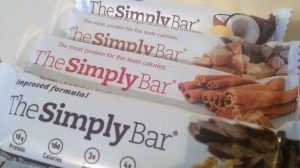 I started my fitness journey in June of this year and I needed something to help me in the protein area. I like eating something with protein before and after my workout sessions.
I also like snacking and I know I need improvement in that area, so I figure if I can do better in the protein area, then my snacking habits would change too. In the past, I have done a little experiment with having protein with each meal I eat and it alleviated my cravings.
Here enters The Simply Bar. I do not eat protein bars a lot, but I have tried a few in the past. Those that I did try, were either too sweet or did not taste good.
The Wellness Foods Company sent me four flavors (box) – (lemon coconut, caramel peanut, cinnamon pecan, peanut butter chocolate) of the The Simply Bar to review.
I am glad I tried the The Simply Bar, because it is by far one of the best protein bars I have tried to date.
What is The Simply Bar?
The Simply Bar is a protein bar that is:
Milk Free
Gluten Free
Vegan
Kosher
High in Protein
Easy to Digest
Under 12 ingredients per bar
Good Source of Iron
Who Should Try This Bar?
Everyone should give this bar a try, but it especially beneficial for:
Weight loss
Diabetics (healthy low-glycemic snack)
Vegans
Athletes
those who are Gluten Intolerant
those who have Digestion Issues (east to digest)
What's in The Simply Bar?
Here are the ingredients for one of my favorite flavors, lemon coconut.
16 grams of protein
3 grams of fat
4 grams of sugar
Ingredients: Soy Crisps (soy protein isolate, tapioca starch, salt), Organic Brown Rice Syrup, Inulin (chicory root fiber), Cashew Butter (dry-roasted cashews, sunflower oil), Vegetable Glycerin, Coconut Chips, Natural Flavor. Contains Soybeans and Tree Nuts. Manufactured in a facility that also processes peanuts. Soy ingredients are non-GMO.
Percentage Daily Values are based on a 2,000 calorie diet. Vitamin A – 0%, Vitamin C – 0%, Calcium – 8%, Iron – 15%
Cost: $10 for 4 Bar Sample Pack
$30 for 15 Bar Box
My Review of The Simply Bar
The first Simply Bar that I tried was the flavor caramel peanut. I was not impressed with the caramel peanut flavor and I thought I would not like the other flavors, but luckily I found myself falling in love with The Simply Bar.
The Simply Bar has a texture of a rice crispy treat, but soy crisps are thicker and not as light as a rice crispy.
The Simply Bar is not very sweet, but it has just the right amount of sweetness. I liked that it is not too sweet.
I raved to my husband about these bars and that I noticed something happen for me within a 1-2 days of eating The Simply Bars.  I did not snack like I usually do, because The Simply Bar was very filling.
Compared to other protein bars that I have tried, I can say The Simply Bar is the best. Why? Because it is high in protein, low in calories, low in sugar and has fiber.
My favorite Simply Bar is Lemon Coconut, with Cinnamon Pecan coming in second.
Overall, I enjoyed The Simply Bar and I cannot wait to place my order.
I recommend that you try The Simply Bar, you will not be disappointed.
Disclaimer: These are my honest opinions about The Simply Bar and I am not being paid to review The Simply Bar.