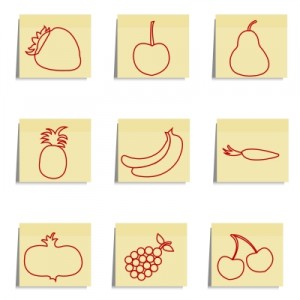 I call these super foods, because they are super.  Super good for your health.  These are foods that are always in my house, some more than others, because I like to eat certain foods when they are in season.
These foods are very healthy and packed with lots of goodness.   I guess it depends on who you're asking.  Let's not waste anymore time.  Here's the list:
 Fruit
Bananas
Apples
Oranges
Grapes
Tomatoes (sundried)
Avocados
Sweet Bell Peppers
Olives
Mangoes
Strawberries
Blueberries
Zucchini
Vegetables
Green leafy vegetables (kale, collard, turnip tops, broccoli, spinach)
Artichoke
Onions
Garlic
Sweet Potatoes
Mixed Lettuces for salads
Beans
Black beans
Pinto beans
Garbanzo beans
Variety of dried beans
Soy foods (tofu, tempeh, miso)
Whole Grains
Brown Rice
Quinoa
Oat Groats
Multi-grain Cereals (hot)
Whole Wheat Couscous
Nuts, Seeds and Butters
Walnuts
Pumpkin seeds
Flaxseeds
Hemp seeds
Seasame
Peanut butter
Tahini
Almonds
Other
Fresh mushrooms
Dried mushrooms
Sea Vegetables (Kelp, Wakame, Kombu)
Question:  Do you see any of your super foods on this list?  Do share!