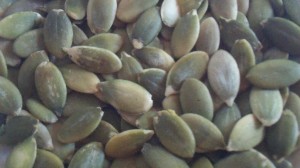 I love pumpkin seeds!  I usually buy them from my local grocery store.
I always buy raw pumpkin seeds because they are higher in nutritional benefits than roasted pumpkin seeds.
You can eat pumpkin seeds in many ways.  I prefer pumpkin seeds as a snack only after soaking and dehydrating.
What are Pumpkin Seeds?
Pumpkin seeds are seeds that are inside the pumpkin.  Pumpkin seeds have an ovoid-shaped shell that is thin enough to crack open with your teeth.
Pumpkins belong to the melon, gourd, and squash family.  All pumpkin and squash seeds are edible.
Nutritional Benefits
Good source of B vitamins
High in zinc (good for prostate and building the immune system)
Essential fatty acids and beneficial protein
Oils that support normal sexual function
Help protect against heart disease
Traditionally used for prostate disorders
Supply safe and natural source of tryptophan (least abundant amino acid in people's diet).
Helps remove intestinal parasites
Best eaten raw for maximum nutritional benefits
How to Prepare Pumpkin Seeds
Soak raw pumpkin seeds in water for 4-6 hours or longer.  Soaking raw seeds helps remove enzyme inhibitors.  The removal of enzyme inhibitors makes the seeds easier to digest.
I enjoy flavoring the seeds with a little tamari and then dehydrating
them at 105 degrees farenheit until crunchy/crispy.  The pumpkin seeds make the best snacks.  Substitute in place of processed croutons and you can also make a tasty pumpkin seed pâté.
References: