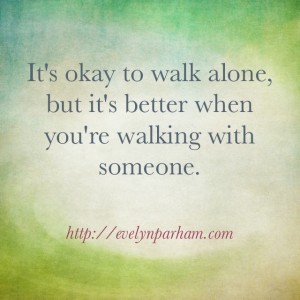 Making healthy lifestyle changes is sometimes hard, but having an accountability buddy makes it easier.
It's okay to walk alone, but it's better when you're walking with someone.
What is an Accountability Buddy?
An accountability buddy is someone who holds you accountable for your actions when you are making changes.
It is usually best to have an accountability buddy who understands the changes you are making and who also has your best interest in mind.
Often an accountability buddy is making the same changes as you are which makes it easier, because you are not in this alone.
If it is your desire to make healthy lifestyle changes and you can find someone who is also doing the same thing, then you both can work together and hold each other accountable.
My Experience with Having an Accountability Buddy
Recently, I was talking with a friend about some of the dietary changes that I want to make and we discovered that we both are making the same changes.
We have same dietary goals.  We decided to set a date and start our dietary change.  I am glad that we both have each other as accountability buddies.
We set a start date and we will checkin weekly or sooner if we find that we are having challenges.
I am happy that I have an accountability buddy because I am not making this change by myself.  I have a trusted friend who is making the same changes as I am and I am happy to walk with her on this journey.
Reasons You Should Have an Accountability Buddy
An accountability buddy:
helps you stay focused on your goals
helps you realize that you are not by yourself
reminds you why you are making changes, especially when you feel like giving up
walks with you on your journey helps you remember why you are making changes
encourages you to keep going
motivates you when you are down
inspires you when you need inspiration
is always in your corner and has your back
listens to you when you need an ear
always tells you the truth about what you are doing;  good or bad
walks with you on your journey.
It is always good having someone with similar interests walking with you on your journey of change.
Many times it is hard sticking with the changes, but when you have someone who is also making some of the same changes, it makes things much easier.
Discussion:  What changes (diet, weight loss, fitness, personal growth, business, etc)  are you making for the new year?