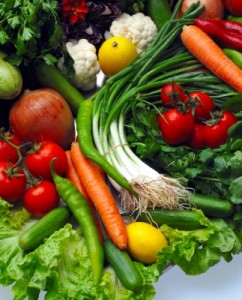 We are almost nearing the half-way mark for 2011 and I know some of you set goals to lose weight.  Did you lose the weight?  Have your reached your goals?  Did you call it quits?
I hope you achieved all your goals, but I am a realist and I know some of you probably stopped working on your goals.  I set some goals myself and now I must re-group.
If you did stop somewhere between January 2011 and now, I urge you to re-group and start over.  Whatever you do, do not give up!
I was thinking about how some people lose weight, only to put the weight back on.  Wonder why this happens?  Today I will share with you how you can keep the weight off for good.
10 Tips to Help you Keep Off the Weight
1.  Do not overeat. Constantly overeating is taxing on your digestive system.  There is no reason for you to leave the dinner table with your belt unfastened and your pants unbuttoned.  Never eat to the point of exhaustion.  What do you think the inside of you is doing? (slowing down)
2.  Stay active.  It does not matter what you do, as long as you are active.  I enjoy dancing with my daughter.  This is one way I work my muscles, but I also do other things.  These days, I am working in the garden and it is a good workout.
3.  Drink your water. Do not skimp on drinking water.  Water is the best liquid that you can ever put in your body.  The body is 70% water, so why not keep it hydrated with what it needs the most.
4.  Leave the junk and processed foods alone. These foods taste good, but they do not give your body what it needs. You eat more when you eat junk food because these foods have no life.
Junk in, junk out:  healthy in, healthy out.  In other words, if you eat a lot of junk, you will feel and look like junk.  But if you eat healthy, then you will feel and look healthy (from the inside out).
5.  Surround yourself with the positive. This goes for the company you keep, what you view on television, what you listen to, and so much more.  If you feel bad after talking with someone then, you should keep your conversations short with that person.
6.  Keep eating your veggies. Everyday make sure you eat vegetables.  When you cook your vegetables, make sure you do not cook them to death.  You need the vitamins, minerals, and nutrients from vegetables.  Make sure eat a variety of veggies every day.
7.  Eat when you are hungry. Do not be so fearful of gaining weight that you ignore that you need food.  Listen to your body and give your body what it needs.
8.  Fast sometimes. I sometimes joke with my husband about people fasting, especially those whose faith teaches that fasting is good for the spirit.  Here's the little joke, "They don't ever fast, because they look like they have never missed a meal."  This is all done in fun, but the truth is that people are not fasting, they are eating every time they think about food.  It is okay to fast intermittently, you will not die of starvation.
I do understand that some people cannot fast because of health reasons.
9.  Eat desserts (sweets) occasionally. Save desserts for special occasions.  You do not have to have sweets every day.  If you do, you will notice that the weight will slowly creep back on you.  Keep the desserts to a minimum.
10.  Continue learning. Read, read, read and read some more!  Learn all you can about maintaining a healthy lifestyle and do not ever stop!
Please share any tips that have helped you.