Today our guest blogger is Dr. Jupitor Chakma.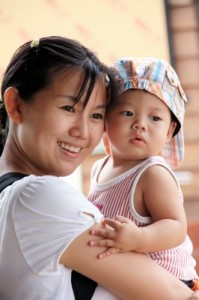 There is a saying: "habit is a second nature" and habits can be developed by doing it repeatedly. Hence the role of the mother in developing taste for different foods (especially vegetables and fresh fruits for healthy eating habits in children) is very important and should not be ignored.
Mothers can help their children develop the taste for veggies and fruits from early childhood. Babies can develop taste for veggies and fruits if the mother eats veggies and fruits during breastfeeding and by giving their baby these fruits after weaning (weaning is starting to give solid foods to the baby at the end of exclusively breast-feeding, which should be about 6-8 moths of age).
We all are aware that eating vegetables and fruits (preferably from childhood) can reduce risk of obesity (a body mass index or BMI of more than 30 is obesity) or overweight (a body mass index or BMI of 25-30 is considered overweight) as well as risk some serious diseases such as cancer, but unfortunately many children, adolescents and adults do not eat enough fruits and vegetables.
The best way to make sure children eat vegetables and fruits is to help develop taste for these foods and mothers can help in developing taste in their children and teach them to eat healthy from childhood, which will certainly continue in their adulthood.
It is important to offer vegetables and fruits every day after weaning, which will help in developing healthy food habits. Parents (especially mothers) should eat fresh fruits and vegetables regularly, as we all know children imitate their mother and they will eat what their mother eats. They may not follow verbal instructions to eat veggies and fruits, but they will certainly eat veggies and fruits if they see their mother eating fruits and vegetables.
Recent research suggests that eating habits during pregnancy can influence the eating habits of the offspring. The researcher's postulate that flavors from the mother's diet is transmitted to the growing fetus via the amniotic fluid during pregnancy and through milk during breastfeeding. That is why if a mother eats fruits and vegetables regularly during pregnancy and during breastfeeding the child is most likely to develop taste for these foods and eat these foods regularly.
So, it is advisable for the mothers to develop habits of eating fruits and vegetables regularly which will help their children develop a good and healthy eating habit. A good and healthy eating habit is the foundation for a healthy life. For a healthy life of your children, all mothers should themselves eat healthy, which is eating lots of fresh vegetables (green leafy vegetables) and lots of fresh locally grown fruits.
Image: phanlop88 / FreeDigitalPhotos.net
A doctor and enthusiastic health blogger, who is eager to learn more about blogging. Dr. Jupitor Chakma, writes regularly on his Health Blog and Online Health Website. Visit these blogs for regular updates and to read more articles by this writer.