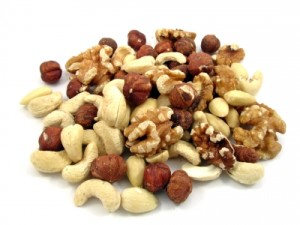 It is not what you put on your hair that makes it healthy, but also what you put in your body that makes for a healthy head of hair.
You want to use hair care products that are best for your hair type (normal, oily, dry), but you also need to eat a healthy diet.
I cannot tell you how many people I see on a quest for healthy hair.  They use the best hair care products, take special care of their hair, but still have hair and scalp issues.
If you find that your hair is not as healthy as you would like, take a good look at the foods you are eating.
Below are some foods you should incorporate in your diet to help you have healthier hair from the inside out.
 Foods that Help Improve the Health of Your Hair
Beans:  A good source of protein especially for those of you who eat a plant-based diet.  Beans have iron, zinc and biotin.  Biotin helps improve your hair's strength. (lentils, kidney beans, garbanzo beans)
Blueberries:  A good source of vitamin C and anti-oxidants.  Vitamin C is good for circulation. (strawberries, tomatoes, bell peppers)
Green Leafy Vegetables:  A good source of vitamin A and C, which are needed in sebum (natural oil produced by oil glands).  Green leafy vegetables are also a good source of folate, iron and calcium. (kale, spinach, turnip greens, broccoli)
Nuts: A good source of healthy fats.  Nuts are also a good source of minerals.  The two important minerals that help with healthy hair are zinc and selenium. (walnuts, almonds, brazil nuts, pecans)
Pumpkin Seeds:  A great source of zinc, iron, protein and healthy fats.
Carrots:  A good source of vitamin A.  Vitamin A helps with shine and the overall look of the hair.
Sweet Potatoes:  A good source of vitamin A (beta carotene).  Vitamin A helps carry oxygen to the hair follicle to produce hair strands.
Whole Grains:  A good source of B vitamins, zinc and iron.  Zinc helps regulate the hormones, which can affect the thickness and growth of your hair. (oats, quinoa, brown rice)
Brown Rice:  A good source of B vitamins which are needed for hair growth and maintenance.
Bananas:  A good source of manganese and potassium.  It is also a good source of vitamin B-6.  The lack of vitamin B-6 can result in hair thinning and hair loss.
Final Words
It is easy to take a supplement that has everything you need for healthy hair, but if you are not eating a healthy diet, what good is the supplement.
Everything you need for healthy hair is found in the food you eat.  You just have to eat a well-balanced diet with little to no consumption of processed (refined) foods.
Stop focusing so much on the hair care products that you use on your hair and start focusing more on what you are putting inside your body.
Remember, if you put junk inside your body, the junk shows up on the outside.  Put the healthy foods inside your body, so that vibrant health shines through to outside.
Image courtesy of Grant Cochrane/ FreeDigitalPhotos.net