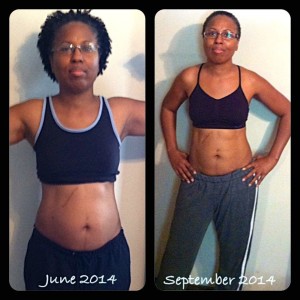 Belly fat is some of the most stubborn fat.  It grabs hold and hangs on for what seems like an eternity.
The good news is that you can burn fat the fat off by making a few lifestyle changes, but you must stick with your routine.
Never accept belly fat as a natural part of living, because it is not natural.  Extra belly fat is unhealthy and we want to do all we can to banish the belly fat forever.
My Journey
I started my fitness journey in January 2014 and I was not perfect, but I kept moving.
It took six months for me to make the mind-body connection with food.  In June 2014, I was armed with knowledge about how I would proceed further and succeed in getting a flatter belly.
In July 2014, I started working with an online personal fitness trainer, Tamara Grand.  This is the time when the magic happened.  A light bulb illuminated my mind and body, and it radiated from the inside out.
My Flatter Belly Tips
1.  Take a probiotic and eat fermented foods.  Probtiotics are microorganisms (good bacteria) that help keep the body healthy.  They also help improve the health of the gut, immune system and other health issues.  Buy a probiotic that has at least 10 billion good bacteria (read the label).
2.  Eat the best diet (for your body).  One diet does not fit all.  Eat those foods that work best for your body.  Learn your food intolerances and act accordingly.  Always listen to your body.
3.  Get those macros (fats, proteins and carbohydrates).  Be careful with amount of carbohydrates that you consume.  Consuming too many can slow down the fat burning progress.  Always include healthy fats and protein with each meal because this helps keep your appetite controlled.
4.  Exercise (important, but your diet is probably more important).  There are a variety of exercises that you can do.  Stay active and do not focus so much on doing exercises that target your abs.  Focus more on strengthening your core.
5.  Stay consistent.  Do not stop, no matter how hard it gets.  Hire a professional to help you stay consistent.
6.  Visualization.  Make a vision board.  Seeing is believing and believing is achieving.  See yourself with a flatter belly and state your intentions.
7.  Patience.  It takes time to burn fat, so do not have unrealistic expectations.  Patience gives you strength and willpower to stick with your plan.
8.  Make it happen.  If you want it bad it enough, you make it happen.  Get in the game and play hard until you win.  If you stay in the game and do not quit, you will win.
Let's go make it happen!