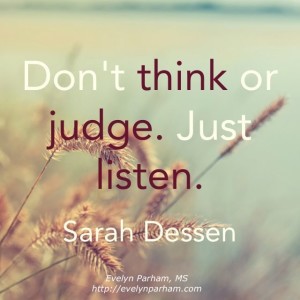 Let me be the first one to answer this question.
Yes, I am guilty of passing judgement on others for their dietary and nutritional choices. I don't mind sharing, but I made it a practice not to push what I believe on others, because I understand that everyone is different and everything doesn't work for everybody.
As most of you know, I no longer label myself as a vegetarian or a person who eats a plant-based diet. I am simply a person who eats the food that agrees with me.
During my days of passing judgement, I had a closed heart and mind. I honestly believe that my growth stagnated a bit.  I am thankful for my coach and mentor, who has continued to challenge and encourage me along this journey.
I was a member of a Facebook Group that was so far to the left or right (just know they were not middle of the road) in their thinking and I noticed that some people in the group came off as angry and unkind. The attitude was, "It's this way or no way at all."  I left the group without any reservations and I realized that I still have more to learn.
My goal is to be a health coach and be good at what I do. I cannot be successful if I have a closed heart and mind. If my heart and mind are closed, then I will never experience growth. Continue reading