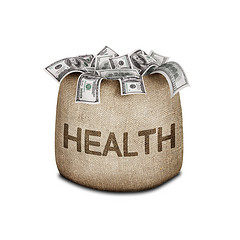 Many are feeling the sting of this economic downturn. The economy isn't doing as well as some would have you believe. I am feeling the sting and as a result I have cut back on many things. The things I was able to do a year ago at this time, I cannot do now.
Some people are not feeling the sting, but most are feeling it. A You Tuber sent me a message months ago, telling me that she wanted to eat vegan, but she could not afford it.
You're probably thinking, "How can you not afford to eat vegan or healthier for that matter?" The reality is that the price of food and the cost of living is going up, seems like almost daily and the wages are remaining the same.
Because things are going up so fast and the value of the dollar is going down, it is expensive and hard for some to keep up. Don't let this hinder you, because you don't have to buy everything organic and you can keep things simple.
I must admit, purchasing organic is good, but when you can't afford it, it is best to get the non-organic version, clean it well and keep it moving.
Staying healthy is more than the foods you eat.  The foods you put in your body is only a part of your staying healthy.  Ask yourself, "How is my physical, mental, emotional and spiritual health during this time?"
I published a post about eating healthy during the economic downturn, I had no I idea that one year later, the downturn would still be happening, but it is.
It is worse now than it was a year ago. Don't be fooled! So here I am writing about it again.  Here's twenty-nine (29) ways to stay healthy during economic downturn/recession:
Eat at home. There's nothing better than a home cooked meal.
Exercise at home, cut out the gym membership (take a power walk).
Keep your meals simple and use simple ingredients.
Shop around for the best bargains.

Buy from Farmers Markets.

Reduce the amount of organic foods you buy.

Buy in bulk (non-perishable items, especially).

Buy items that are on sale.

Buy the store brand of supplements, can goods, etc.

Drive less, walk more (if possible).

Buy only what you need.

Focus on the positive and less on the negative.

Cut down your television viewing time.

Spend time with your family and friends.

Use coupons and discounts to your advantage.

Go to the park, relax and enjoy watching the children play.

Keep stress and stressors low.

Smile, it could be worse.

Don't shut yourself off from others. Everyone needs someone.

Talk it out and express your feelings. Don't keep things bottled up inside you.

Don't focus on not having the money to get the things you want, just be thankful that you have the things you need.

Take advantage of free services (community activity centers, libraries, etc.)

Pray, meditate and do deep breathing.

Read inspirational and motivating books.

If you have neighbors you are close with, have an occasional potluck.

Slack up on eating out.

Make your own homemade marinades, sauces, salad dressings and other foods from scratch.

Try not to worry, it won't add anything to your situation.

Use wisdom in all things you do!
Discussion: What are some other ways to stay healthy during this economic downturn?