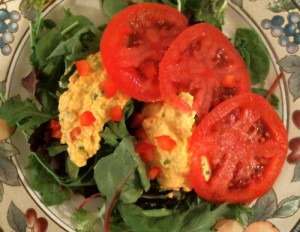 Carolyn Akens, author of Mindful Meals:  Recipes for a Healthier Spirit, Soul and Body, sent me her recipe book to review.   Thank you Ms. Carolyn for sending me your recipe book.
The Mindful Meals recipe book is for those who:
 eat a plant-based diet
 need raw vegan recipes
 eat a clean, whole food plant-based diet
 anyone interested in eating healthier foods
What's In The Mindful Meals Recipe Book
The Mindful Meals recipe book has the following:
Entrees
Soups
Side Dishes
Salads
Dressings
Desserts
Breads
Goodies
Smoothies
The recipes do not have any faux vegan food as ingredients.  Every recipe has healthy, whole food ingredients listed.
The Mindful Meals recipe book also has raw vegan recipes as well as cooked vegan recipes.  There are also beautiful photos of Carolyn's creations.
Egg-Less Egg Salad
I prepared the Egg-Less Egg Salad recipe with some reservation, because I did not know what to expect.
I have had Carolyn's food in the past and it was delicious, but it was me making the recipe and not Chef Carolyn.
I also had reservations because I tried recipes from other books and was sometimes disappointed.
I am happy to say that Carolyn's Egg-Less Egg Salad is a hit. The first bite had my taste buds dancing for joy.
I could not believe how much it tasted like traditional egg salad.  I look forward to trying other recipes from the Mindful Meals recipe book.