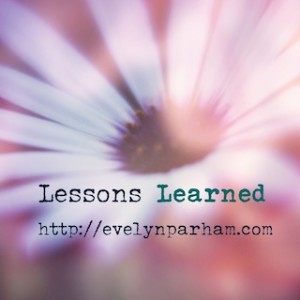 It has been a while since I published a post.  I made changes to the site and still have things I need to do.  I took a much needed break from blogging and I do feel good.
I consulted with John Aguiar about my blog and he steered me in the right direction.  I am pleased with the new direction.  I look forward to a rewarding 2014.
I took the time to reflect on 2013 and decided to share with you lessons I learned in 2013.  The lessons I learned in 2013 cover many areas (diet, fitness, blogging, family, friends, and life).
Lessons from 2013
#1  Plant-Based Diet Lesson
Just because someone eats a certain type of plant-based diet and it works for them, doesn't mean that specific plant-based diet will work for you.  Find what works for you and stick with it.
#2  Follow Through with Fitness Lesson
Don't stop exercising because you think your body is fine and doesn't need it.  Exercising and staying fit is more than just having an awesome body, it's about being happy in the skin that you're in (mentally, spiritually and physically).
#3  Website Ranking Lesson
Don't give up or stop blogging because your ranking falls.  Find the root of the problem, correct it, learn from it and move on.  If that means hiring someone to assist you, then so be it.  Do what you have to do to make your passion work for you.
#4 Quality Posts Trump Quantity Posts Lesson
Don't feel that you are obligated to publish posts on your site by accepting guest posts from anyone to fill the void.  If you are too busy to write a post, then do it when you can and don't feel guilty about it.
#5  Following the Crowd Lesson
Don't ever feel like you have to do what you see other people doing to fit in.  Do what works best for you, even if what you do is unpopular.  Stay true to your core and you will never go wrong.
#6  Support Those Who Support You Lesson
It is not selfish; it's called doing what's right.  If someone supports you and is in your corner, do the same for them.  If you don't receive support from those you support, then it is time to let them go.
#7  Keep Your Mouth Shut When Needed Lesson
Everyone has an opinion about everything, but sometimes, it is best to keep your mouth shut and listen.  Listening to the person helps you hear what the person is saying and it helps you understand the other person's point of view.  Even if you don't agree, you will understand the other person better.
#8  Follow Your Passion No Matter What Lesson
Don't let others talk you out of your passion.  You can do whatever you set your mind to do.  The person may not understand why you are going one direction, but no matter what the naysayers say, you follow your passion.  Eventually the naysayers will stop being naysayers and support you.
#9  Family and Good Friends Lesson
Family and good friends may not understand why you do what you do or believe the way you believe, but they don't judge you for it or stop being in your life because of the differences.
You don't need family and good friends in your life who stop having a relationship with you because of a disagreement or misunderstanding.  Relationships like this aren't worth your time.
#10  Life Won't Always Be What You Expected Lesson
Understand that life won't always turn out the way you expect.  Accept, embrace, learn and be of good courage.  Do know that most of the time, when things don't turn out the way you expected that this can be a blessing in disguise.
Final Words
Lessons help you learn and not repeat the same things over and over.   Learning and moving forward is what makes life an amazing adventure.
Happy New Year to everyone!  Wishing you all the best in 2014.  Go forth and conquer!
Sincerely,
Evelyn