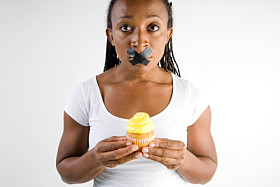 Are you trying to lose weight, but finding it hard to lose the first pound? Losing weight is actually not all that hard. Weight loss is something that you have to work at.
The weight will not come off over night. Why? Because it took time for you to pick up the added weight and it will take you some time to lose the weight.
Don't be suckered into believing that there is a magic pill, that will miraculously melt away all of your excess pounds. Because there isn't one!
The best diet for losing weight is a simple diet. Nothing outrageous, but one that is easy as pie to follow. Guess what it is? It is found in nature and it is not found in bottle, box or can.
Here are 21 ways you can lose weight and keep it off for good.
1. Cleanse and detoxify (mind, body and spirit).
2. Eat less.
3. Don't eat anything that is white (sugar, flour, salt, rice, bread, etc).
4. Exercise at least 3 times a week for 30 minutes.
5. Drink water first thing in the morning and make sure you drink it through    out the day.
6. Drink green smoothies (fruit and savory ones).
7. Drink fresh juices, preferably green vegetable juices.
8. Eliminate processed foods.
9. Eliminate dairy products, find substitutes.
10. Eat whole, fresh foods found in nature (fruit, vegetables, grains, beans, legumes, seeds and nuts)
11. Don't eat constantly, allow time for your digestive system to rest.
12. Eat your biggest meal when it is daylight.
13. Eat a large salad everyday.
14. Eat less animal products. Make sure these are low in fat.
15. Eat foods high in fiber.
16. Find a buddy that will hold you accountable.
17. Eliminate stress in your life.
18. Get plenty of rest.
19. Surround yourself with like minded people.
20. Incorporate dry skin brushing.
21. Don't put junk (chips, cookies, cakes, etc) in you body temple (junk in junk out, healthy in healthy out).
22.  Be disciplined and focused on your goal.
If you incorporate these 22 things, then you will feel and see a difference in your overall health and well being. Mark my word on this, because it worked for me.
I went from 152 pounds to 108 pounds by doing the things listed above and then some. Granted it took some time for this weight to go away, but the main thing is that the extra weight is gone.
One thing is for sure, you must not be focused on losing weight. You must be focused on becoming a healthier you. Becoming a healthier you, takes time and persistence. But if you stick with it you will lose the weight, not only that you will maintain a healthy weight almost effortlessly.
Have anything to add, feel free to do so.
Become a healthier you, one day at a time!
Photographer:  Marlene Ford